Inside the first Yummy Market store in Thornhill, Ontario.
2002
From its establishment in 2002, Yummy Market set itself apart from other grocers by having a clear and focused value proposition — a complete European Food Experience. While other food retailers were fixed on attracting the mainstream Canadian consumer, the founders saw an opportunity in catering to new Eastern European immigrants longing for familiar comfort foods in their new Canadian home. With its clear focus on quality, assortment, value and excellent customer service, the company quickly garnered loyal customers within Toronto's Thornhill and North York communities.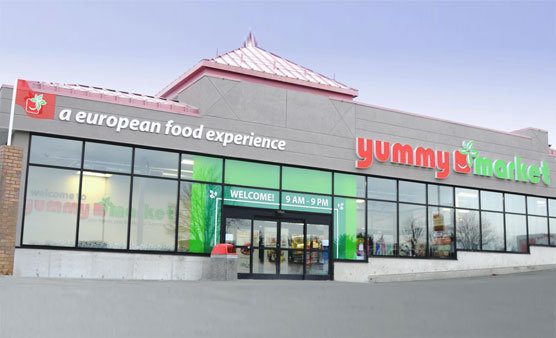 Yummy Market located at Dufferin and Finch in North York.
2005
In just three years after its opening, the original store of under 3,000 square feet became too crowded with new customers and Yummy Market expanded to a new 24,000-square-foot location at Dufferin St. and Finch Ave. The founders have successfully identified and filled a niche for prepared-from-scratch, home-style meals and imported European products missing on the Canadian marketplace at the time. The store's new strategic location near a busy highway allowed for visibility and convenience, which helped attract the working moms and dads on their way home from work. Thanks to that, the store's Prepared Foods department was booming. The new location became not only Toronto's largest European grocer, but it also served as an important community anchor and generous community supporter. In addition to its core audience, the grocer now managed to attract and retain a large number of the mainstream consumers and curious foodies hungry for new tastes.
The grand opening of the Yummy Market flagship store in Maple, Ontario.
2013
Soon after opening, the store's 24,000-square-foot floor space began to struggle to accommodate its growing clientele, which now included the mainstream Canadian consumer. It was time to expand again. Extensive research into customer demographics identified a demand for a European food store north of the existing store location. In February 2013, Yummy Market became a chain with the opening of its completely rebranded  50,000-square-foot concept store in Maple, Ontario. A European Food Experience has truly come to life with thousands of imported and made-in-store foods paired with the flagship store's award-winning architectural design, which includes European landmark images, curved bulkheads and open market areas.
Yummy Market located at 1390 Major Mackenzie Dr. West in Maple, Ontario.
2016
Yummy Market located at 1390 Major Mackenzie Dr. W. wins top industry prize — the Gold Award in the Specialty Food category — at the 2016 Canadian Independent Grocer of the Year Awards held on October 18 at the Toronto Congress Centre. The Gold Award is a nod to the European retailer's excellence in products and services offered at its 50,000-square-foot concept store in Maple, Ontario.
Yummy Market in Maple, Ont. wins gold in specialty retail.
Present
As the store space expanded, so did its food offerings. Today, Yummy Market's world food assortment grew to become the largest in the GTA. From everyday food staples to imported and gourmet specialties, an enticing European shopping experience awaits in every aisle and department. The founders' clear focus, innovation and dedication have created a European food emporium, attracting customers from all over the Greater Toronto Area (GTA) and beyond. Yummy Market's goal is to continue to offer an array of flavours and delight with authentic European and worldly tastes.